Kundalini Yoga - What to Expect?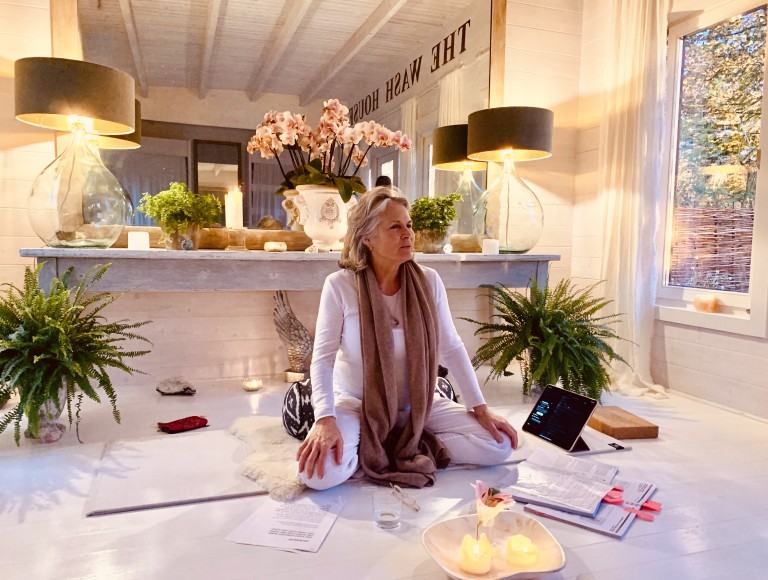 Kundalini Yoga was first introduced to the western world in the 70's by Yogi Bhajan. Kundalini Yoga is a combination of breath, movement, and sound. It derives from the Sanskrit word kundal, which translates to "coiled energy." The idea is that we all have energy gathered at the base of our spine and, through the practice of Kundalini, we bring that energy up our spine through the seven chakras and out of the crown of our head, unblocking the chakras and so allowing our vital energy to flow freely. We become acutely aware of our movements and breath, silencing our minds by constantly focusing on the breath.
There are many health benefits to a regular practise of Kundalini Yoga, the effects of which become clear in a short space of time. The practise has a huge effect on both your physical and psychological well-being. The physical practise strengthens and tones muscles. While the breathwork and meditation can lower the blood pressure and heart rate. The combination of these 2 disciplines, improves your mood, enhances your memory and focus, boosts your metabolism and stimulates your digestive system.
While anyone can practice Kundalini Yoga (unless you have a pre-existing medical condition, of course), this particular style of yoga is especially good for people who are looking for the combination of a spiritual practise and physical workout.
Kundalini Yoga can be an intense practice, but both its physical and mental benefits make it a great option for beginners and advanced yogis alike.
The Wash House is a Kundalini Yoga Studio based in Northumberland. Sarah Woodhouse was born and raised in Northumberland and has practised yoga since 2001, specialising in Kundalini since 2015.
The Wash House began as Sarah's way of bringing a community together, to form a Tribe. She felt that communities had suffered so much during Covid and that it was time to rebuild and bring people together again.
"The last few years have shown us just how delicate that thread of community can be. For many of us, life has really changed since Covid. It's as though we no longer ' fit ' where once we were so comfortable. Our interests are different and we have a strong urge to come together with like minded people. This is why I developed The Wash House. We bond on our yoga mats, all having our personal experience with the Kundalini practise. Then we sit on the floor drinking tea and sometimes eating cake! This is the time where powerful conversations happen and friendships are forged."
"A girlfriend took me to my first Kundalini Yoga class in Ibiza 2015. During that first class I was absolutely blown away by the physical practise and the effect the breathwork and meditation had on me in such a short space of time. As I sat on my mat at the end of the class, I realised I had "come home" and this was what I had been searching for."
Sarah completed her Kundalini Teacher Training in 2017.
"In 2017 I jumped at the chance of doing my Kundalini Teacher Training, with really no idea of what I was letting myself in for. At the age of 57 I was the oldest person in the room, apart from our wonderful teacher Gurmukh who was 75! I can categorically say this course was probably the hardest and most gruelling thing I have ever done in my life, both physically and mentally. All during my school career I had rebelled and fought against discipline and pressure, often walking out of classes when it all got too much. So this time, having not been in a classroom environment for 40 years it was interesting to see how despite being challenged at every level, I never walked out. Even though I fell sleep every time I picked up the text books to study, I managed to pass. It was a triumph for me and showed me what I could achieve when I put my mind to it!!"
Sarah and the team at Brinkburn look forward to welcoming you all on the mat.
Testimonials
"I was a yoga virgin before starting at The Wash House with Sarah in the summer of 2022. Not only that but I do not go to the gym, have never done Pilates and certainly don't have a PT! This probably makes me "a bit of a slug" as my sons would say but I am fortunate to be naturally quite fit and healthy and continue to ride horses and occasionally ride a bike - though only if there is coffee/cake stop en route for the latter! Anyway, what I am getting at is that I would never have considered doing yoga had it not been for Sarah, who I have known for most of my life. At this stage it may be inspiring to some to say that I am a proud holder of a Senior Rail card! I find the Wash House and Sarah's wonderful aura a unique and inspiring experience - it helps me forget about all the normal things in life such as the nagging voice that tells me I should sit down and do accounts or attack the weeds in the garden! Those two hours are just wonderful for the body and soul and I could not recommend The Wash House and Sarah more highly."
"I have been coming to Sarah at TWH for over a year and I can honestly say it is the best yoga I have ever practiced. The Wash House is such a special space. My safe place. My tribe."
"Reflecting on my first year at The Wash House, I'm surprised It has become such an important part of my life, but it really has! Those few hours a week provide physical & mental stimulation, relaxation, friendship & fun. The amazing beauty & serenity of the surroundings is definitely a part of that, but the teaching is truly exceptional too. We are challenged & pushed to improve in our practice, but always with love & humour. I feel very lucky to have been introduced to you & The Wash House & am greatly looking forward to another year! "