Equally Wed Weddings North East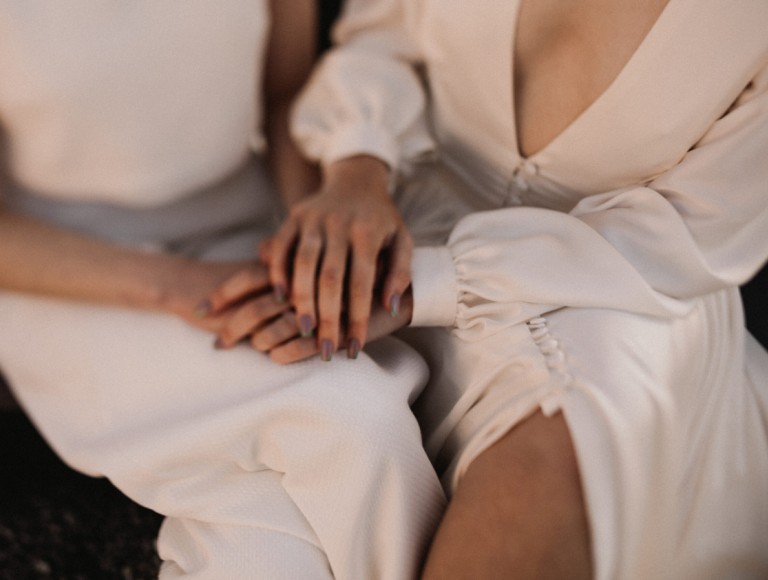 Getting married is a beautiful moment of union, and at Brinkburn Northumberland we consider it a privilege to be a part of all our couples' weddings, including same-sex marriages.
We provide an intimate setting for our couples, whether your ceremony is civil or celebrant-led. The White Room, part of our spaces dating from the 12th century, is available for 25 – 80 wedding guests for a ceremony, a maximum of 120 for a seated wedding breakfast and a total of 150 including the evening guests. The space offers great creative freedom to design your space, a perfect canvas to make your own.
Alternatively, our Manor House, just a stone's throw away from our on-site cottage accommodation, offers another option for your big day. The grade two listed building was originally built from part of the monastic remains – a special 'something old' for you and your partner to treasure.
Following your ceremony, our terrace offers the perfect place to enjoy drinks and canapés. There's also the option for a seated wedding breakfast in The Tipi, if you'd prefer. Once you're ready for the party to begin, we'll convert the White Room into a perfect venue. Glitter balls, sparkling lights and music from the party extend right through to the Tipi and The Tipi Bar. There's no missing out when you need to top up your glass!
With all couples, it's vital for us that your wedding is as unique as you are. We asked Beth, a member of The Brinkburn Team, for her advice on shaking up the rules and traditions for same sex weddings.
Choose Outfits Together
Two suits? Two dresses, or one of each? Wear whatever you like! Everyone has an individual style, so go with what you love. Whether that's colour or something more traditional, lots of couples pick their outfits together so they're perfectly matched if they're planning something colourful.
If you do choose outfits separately for that moment of surprise, consider hiring a second photographer, to make sure you both get the same attention – and to capture each other's reaction, of course!
Personalise Your Ceremony
Whether you're planning a civil ceremony, celebrant or humanist gathering – tailoring your ceremony can make your day extra special.
Couples may want to take it in turn to walk down the aisle, or wait at the top to walk together. Some choose to do a 'big reveal' prior to the ceremony which makes for a glorious moment to capture on camera.